Sound Transit is improving transit connections on Mercer Island
Integrating bus service with light rail
We're designing transit connection improvements on Mercer Island, along N Mercer Way, 77th Avenue SE and 80th Avenue SE, to bring together pedestrians, cyclists, light rail passengers and bus riders to help more people get to more places. The transit connection area is near the new Mercer Island light rail station. It's designed to create a seamless connection experience for riders transferring between bus and light rail on Mercer Island when East Link light rail service begins in 2023.
Sound Transit has long engaged with the Mercer Island community on designs for transit features in the area. We're sharing our latest design, and we want to hear what you think!
Mercer Island Station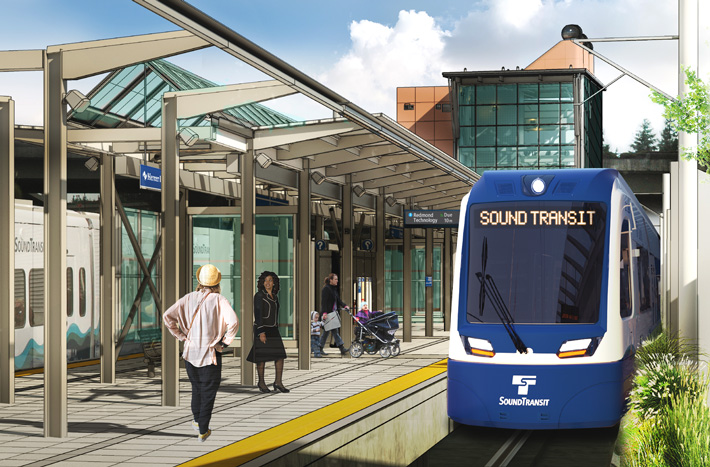 Project overview
In partnership with the city of Mercer Island we're:
Designing a roundabout and curb space to better integrate bus and light rail service.
Creating convenient access to Mercer Island Town Center by optimizing the new station plaza and landscaped pathway along 80th Avenue SE.
Adding new crosswalks and I-90 trail improvements.
Installing more bus shelters and bike lockers.
We expect to begin construction on the transit connection area in 2021 so it'll be ready when East Link light rail service launches in 2023.
Strong community involvement
Public feedback is vital to our work. In coordination with the city of Mercer Island, Sound Transit has engaged the Mercer Island community throughout the project development lifecycle.
Bike and pedestrian connections
The Mercer Island transit connection area includes options for people to connect from N Mercer Way south to the Mercer Island Town Center. These connections are in addition to several other existing local (

) and regional (

) bicycle / pedestrian connection points within the area.
Want to learn more about East Link light rail service beginning on Mercer Island in 2023? Visit the Mercer Island Station project webpage to learn more, sign up for emails about progress and stay connected with Sound Transit.
For questions or more information on the Mercer Island transit interchange project, please contact:
Kurt Workman
East Corridor Outreach Manager
206-370-5664
Kurt.Workman@soundtransit.org
COVID-19
Learn how Sound Transit is responding to COVID-19.